5 Reasons to Buy a Home in Historic Roser Park
Posted by Joshua Gorsuch on Thursday, September 30, 2021 at 3:18 PM
By Joshua Gorsuch / September 30, 2021
Comment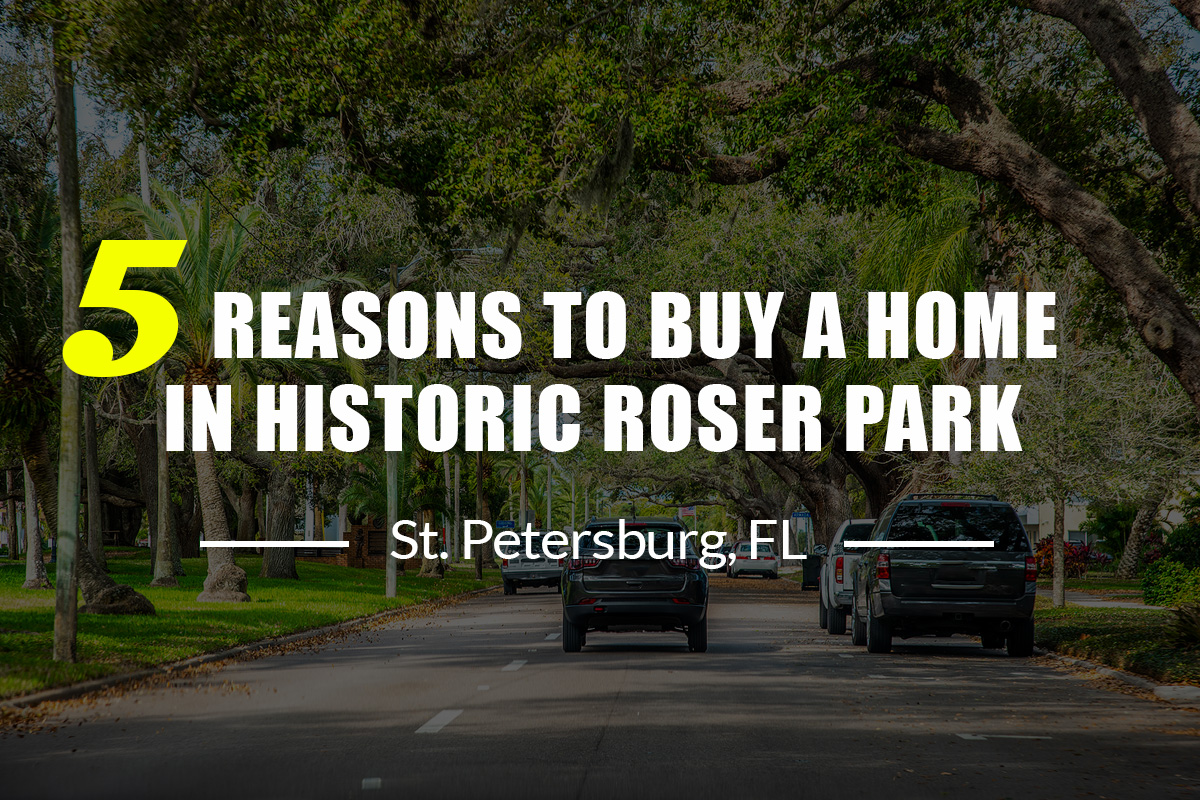 It is one of the most charming places to buy a home in St Pete, but Roser Park has much more than just a great location to offer its residents. It also has nearby green space and plenty of history. These are just a few of the top five reasons you'll want to consider buying a home in Roser Park.
Uniqueness
To begin with, Roser Park is an extremely unique neighborhood for St Pete, and for the State of Florida, for that matter. The terrain of Roser Park is hilly, which is something you don't often find in the Sunshine State. The roads of Roser Park are narrow, made of brick, and lined with dense vegetation.
This creates a unique environment for homebuyers, without the traffic seen in other nearby neighborhoods. It's no wonder that friendly Roser Park is filled with a mix of older residents and young professionals. It's not uncommon to find people sitting out on their front porches, talking with neighbors, and enjoying the impressive surroundings.
The Homes
The homes of Roser Park are truly something special. The area offers a nice mix of architectural styles ranging from Prairie-style homes to Colonial Revivals and Craftsman-style bungalows, many of which were constructed in the 1920s. While a majority of the homes in Roser Park are older homes, many of them have been nicely updated and renovated. Some have been modernized while others simply updated to reflect original style points of the 1920s.
In the market for a new home in St. Petersburg, FL? Search Historic Roser Park homes for sale or call Joshua Gorsuch, local St. Petersburg real estate expert, for all your home buying and selling needs.
Green Space
The amount of green space also helps set Roser Park apart from the rest. Tree-lined streets are just part of the appeal of living in Roser Park. The area also has a walking trail running alongside Booker Creek.
It's a popular spot for neighbors to get out and enjoy nature without even venturing out of the neighborhood, itself. Many of the private homes have well-kept yards and landscaping, further adding to the appeal of living in Roser Park.
History
Roser Park also has plenty of history, as it was an early "streetcar suburb" on the downtown trolley line. While the homes date back about a century, Greenwood Cemetery, which sits on the edge of the neighborhood, has gravesites dating back to early pioneers and even some monuments to Civil War soldiers. The neighborhood of Roser Park, itself, is even a designated US Historic District, with well more than 100 historic buildings.
Location
Of course, the convenience of Roser Park can't be overlooked. This small neighborhood sits just south of Downtown St Pete, meaning homes in the area are actually within walking distance of the downtown area. This puts residents close to entertainment and sports venues, commercial centers and more. The neighborhood is also a short drive from the beach.