5 Reasons to Move To Historic Old Northeast
Posted by Joshua Gorsuch on Wednesday, September 1, 2021 at 7:17 AM
By Joshua Gorsuch / September 1, 2021
Comment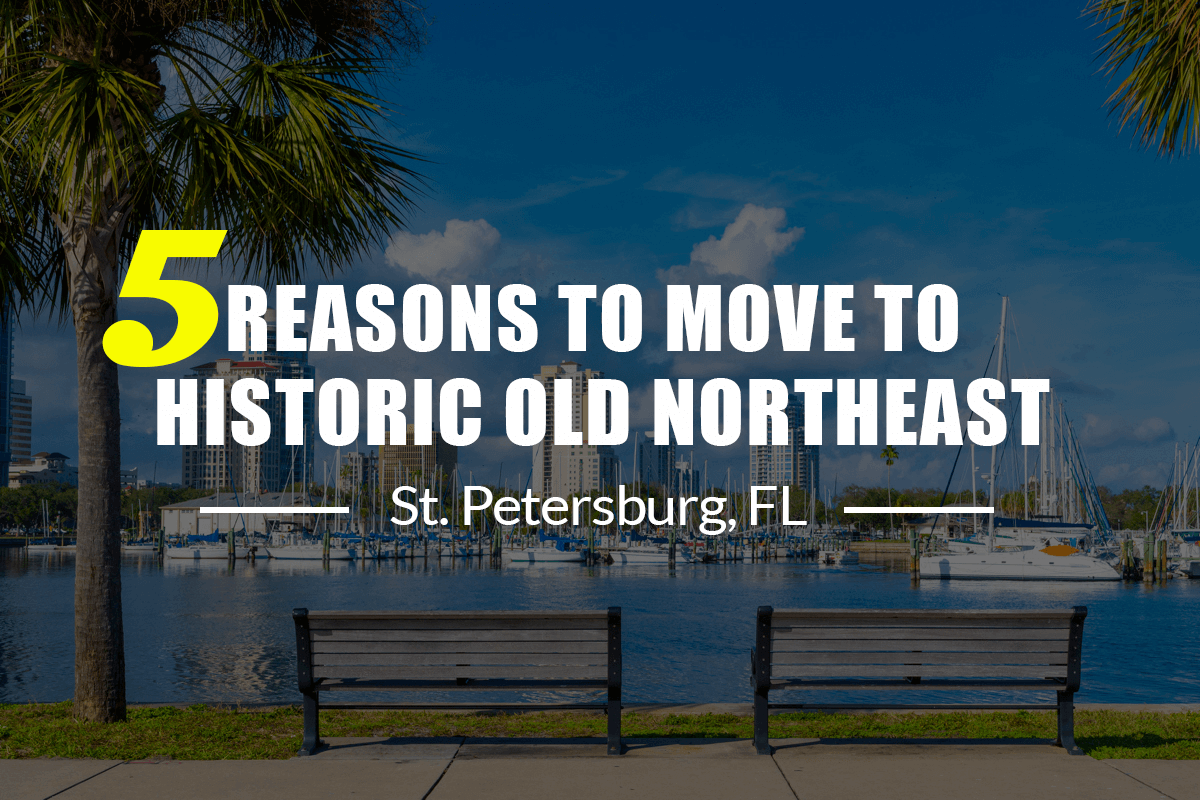 Just about any list of St. Petersburg's top neighborhoods will have Historic Old Northeast somewhere near the top. Best described as a lush residential community filled with beautiful historic homes, brick roadways, and lots of waterfront green spaces, Historic Old Northeast is everything you think of when dreaming of a picture-perfect Florida neighborhood. For years St. Petersburg home buyers have been flocking to the area looking for their forever home and if you're someone who might be looking to join them one day, here are 5 reasons why we think moving to Historic Old Northeast is absolutely the right choice.
Historic Florida Architecture
Lying just outside of downtown, Historic Old Northeast is said to have nearly 3,000 historic buildings, which combined with the brick streets granite curbs, and the fabulous mix of Mediterranean and bungalow style homes, provides a level of charm and character unlike anything else you'll find in town.
Close Proximity to Downtown
You probably don't need us to tell you that St. Petersburg's downtown district is truly one of Florida's best. The collection of bars, restaurants, cafes, and boutiques makes for a lively setting, and the St. Pete Pier is now recognized as one of the best new attractions in the country. Frankly, who wouldn't want to live near all this amazingness?
Waterfront Parks
If you're someone who loves to get outside and stay active, Historic Old Northeast provides amazing access to some of St. Petersburg's best parks. North Shore Park has tennis courts, a playground, and a lovely sandy beach for locals to enjoy. You'll also find beach volleyball courts, picnic areas, walking and biking trails, and of course the Gizella Kopsick Palm Arboretum all within Vinoy Park and Flora Wylie Park, which are all connected and part of the St. Petersburg waterfront.
Black Crow Coffee Shop
We know—a single coffee shop seems like a silly reason to move to a neighborhood. But if you've ever been to Black Crow, you'd probably be hard-pressed not to agree with this one. The coffee is among the best you'll ever try, and the cozy, eclectic vibe inside just makes you want to come back. And if you live in Historic Old Northeast, coming back should't be much of a problem.
Looking for a fabulous new home in St. Petersburg, FL? Search Historic Old Northeast homes for sale or contact Joshua Gorsuch, local St. Petersburg real estate expert, for all your home buying and selling needs.
The Attractions
Living near attractions can sometimes be a negative. The extra traffic and congestion they bring is absolutely a nuisance, and let's face it—once you've seen it, you've seen it, right? Well, Historic Old Northwest is where you'll find St. Petersburg's Sunken Gardens and Great Explorations Children's Museum, which happened to be two local attractions that never get old. If you have kids or are planning to have kids, Great Explorations is an awesome amenity to have nearby thanks to all the programs they offer. And there's never a bad time to unwind and take a stroll through the 100-year old Sunken Gardens, especially on the weekends right when they open.