Common Characteristics of a St. Petersburg Bungalow
Posted by Joshua Gorsuch on Saturday, November 13, 2021 at 11:00 AM
By Joshua Gorsuch / November 13, 2021
Comment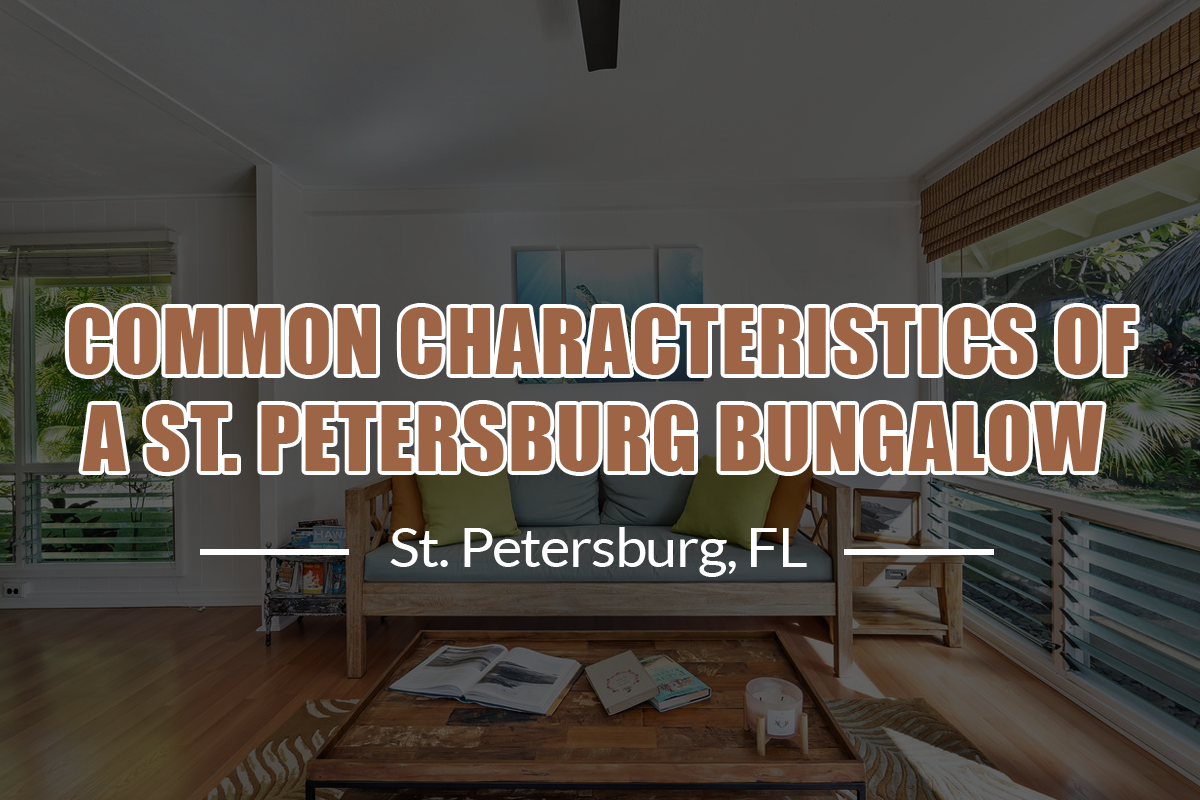 It's one of the most popular home styles in St Petersburg even today, and for good reason. The bungalow has been a favorite of homebuyers in St Pete for decades.
Not only do bungalows sit in some of the city's most desirable neighborhoods, but they also deliver a good dose of history. These charming homes sometimes date back a century or so, as many of them were constructed in St Petersburg in the 1920s and 1930s.
The vintage homes can be found in a number of key neighborhoods and commonly share the same characteristics. For one, the cozy floorplans are usually functional and affordable options for homebuyers.
Some of the entry-level bungalows can be purchased for prices starting in the mid to upper $100,000s. Of course, if you're looking for a luxury bungalow that's been lovingly restored and upgraded you could be looking at close to a $1 million home.
It's common to find bungalows in some of the city's more historic neighborhoods, especially in Historic Kenwood. You will also, however, find them in places like Historic Roser Park and the Historic Old Northeast.
In particular, Historic Kenwood is packed with American Craftsman bungalows dating back to the 1920s. Some of them were built in the neighborhood, while other homes in Kenwood were actually brought in from other areas.
While some neighborhoods have quite a few bungalows, other neighborhoods may feature them mixed in with other older home designs. Still, they tend to stand the test of time, as bungalows are often just as popular in St Pete today as they were decades ago.
Usually, these types of homes tend to not be all that large in size. That often helps with their affordability. A bungalow was designed to be easy to maintain and cost efficient.
Another key thing to look for is a front porch and dormers. You'll likely find both with bungalows in St Pete. A front porch lends itself to a more friendly neighborhood, as people often gather to socialize with neighbors, friends and family members. The front porch also gives the advantage of an extension of living space. While sometimes the front of a bungalow is symmetrical, even when its not the home is often proportionally balanced.
Single-story/partial-2nd story/2-story layouts
Some bungalows are single-story homes, while others have a half-story or a second-story built into the home's sloped roof. The interior of the home is commonly quite efficient too, with small closets and some built-in shelving and cabinets.
Open floorplan & large windows
While the homes themselves may not be extremely large, it is common to find some open floor plans. These types of homes also have large windows.
Of course, one of the other distinguishing features is that bungalows are oozing with charm. As many of these homes are older designs, it's common to find bungalows that have been restored, or at least updated over the years.