Common Home Styles Found in the Roser Park Neighborhood of St. Petersburg FL
Posted by Joshua Gorsuch on Saturday, October 2, 2021 at 5:53 PM
By Joshua Gorsuch / October 2, 2021
Comment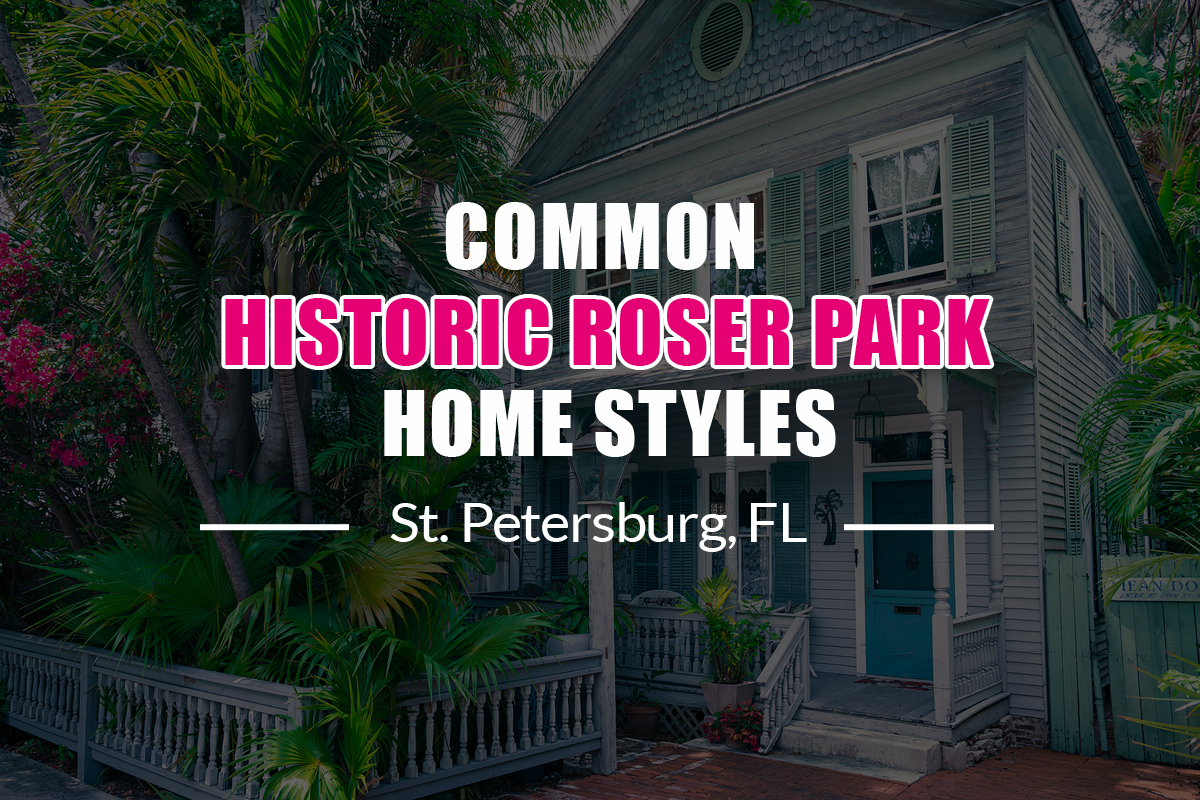 The Roser Park Historic District in St. Petersburg is a quaint, low-key neighborhood just south of Downtown. Prominently featured on the National Register of Historic Places, much of the Roser Park neighborhood was developed back in the early 1900s, making it a great place for prospective home buyers to consider who love vintage homes and classic architecture.
Similar to other historic neighborhoods in St. Petersburg—like Historic Kenwood, Old Northeast, and Old Southeast just to name a few—Historic Roser Park is largely defined by its charm, character, and desirability, and those characteristics, in many ways, are directly linked to many of the homes and home styles you'll find scattered all throughout the neighborhood. Below is a closer look at just some of them…
Colonial
Colonial architecture has several variations in and of itself, including First Period English, French Colonial, Spanish Colonial, Dutch Colonial, and Georgian. In Florida, Spanish Colonial and Georgian style homes tend to be the most common, which is what you'll also find in Historic Roser Park.
Mediterranean
There might not be an architectural style more synonymous with Florida than Mediterranean. The elegant exterior of a Mediterranean home typically features tile roofs, stucco walls, and arched doorways, adding a unique and distinctive flair that you'll find all over the state.
Spanish
Spanish homes are among our favorite style not just in Roser Park but all throughout St. Petersburg. Deriving its roots from Spain and Latin American, Spanish architecture boasts striking characteristics, including many of the same features commonly associated with Mediterranean homes like tile roofs, prominent arches, and stucco exterior. Some key differences, however, is that many Spanish homes will have decorative tile, ornamental wrought-iron railings, and in many cases even private courtyards and guest casitas on the property as well.
Love the history of Historic Roser Park? Search available Roser Park homes for sale or call Joshua Gorsuch, local St. Petersburg real estate expert, for all your home buying and selling needs.
Bungalow
If you're truly looking for charm and character in a vintage home, a bungalow in Roser Park might be the perfect fit. Most bungalow-style residences throughout St. Petersburg have just one story and other defining characteristics like low-pitched / sloped roofs, exposed rafters, decorative brackets, and in many cases broad front porches. Of all the various home styles in Roser Park, bungalows might just be the most commons.
Florida Cracker
History buffs love Florida Cracker homes, as this particular style is directly linked to the earliest settlers of both Florida and Georgia. The oldest Florida Cracker style homes were simple wooden shelters designed to be built quickly and cheaply, and other common features associated with these type of homes include metal roofs, raised floors, and straight central hallways that are commonly referred to as "dog trout" or "shotgun" hallways. Key West is loaded with Florida Cracker homes and they also have a prominent presence in historic neighborhoods all over the state, including right here in Historic Roser Park in St. Petersburg.
Related Historic Roser Park Content: