St. Petersburg's Best Neighborhoods for Buying a Bungalow
Posted by Joshua Gorsuch on Tuesday, October 12, 2021 at 10:39 AM
By Joshua Gorsuch / October 12, 2021
Comment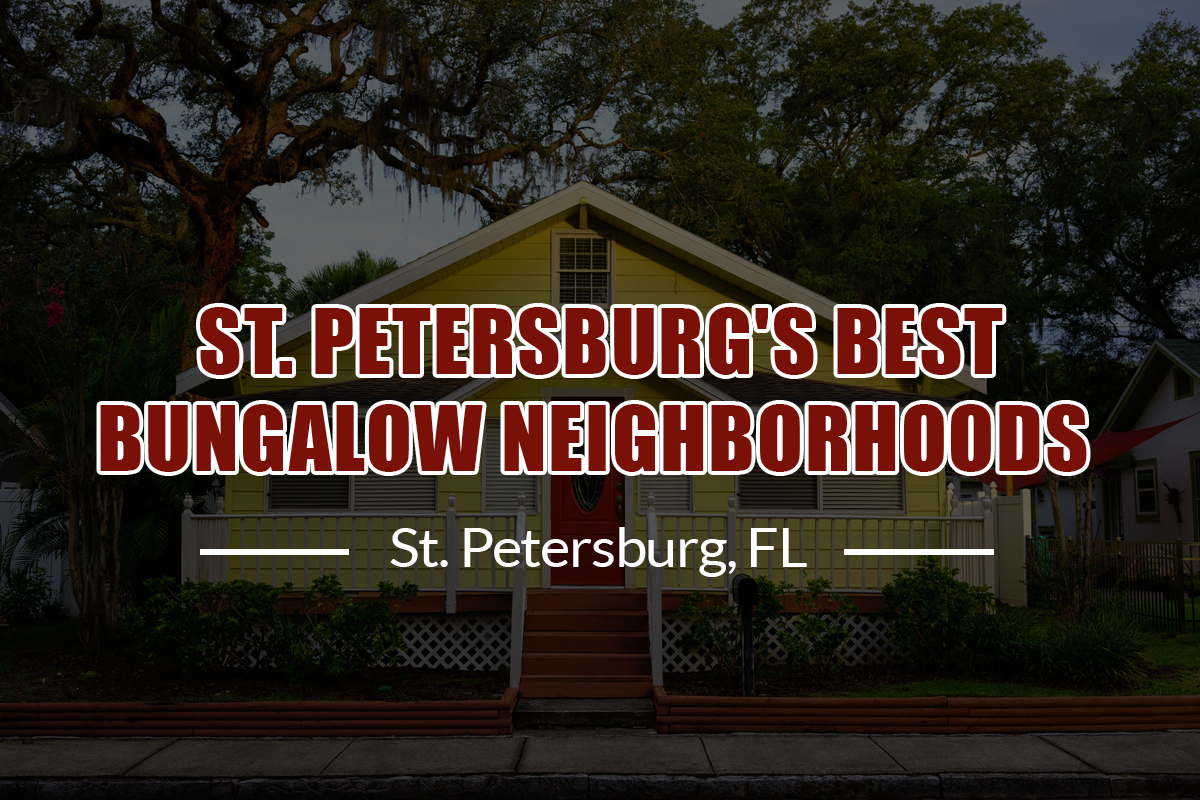 St Petersburg is filled with a number of great neighborhoods, but if you have your heart set on buying a bungalow, you may want to check out one of these top neighborhoods. Some of them have original bungalows that date back generations, plus they boast plenty of local history.
Historic Kenwood
The historic Kenwood neighborhood is where you'll find one of the state's largest concentrations of Craftsman-style bungalows. Many of the homes went up in the 1920s and 1930s. Since then, a number of them have been updated and restored, but still maintain their original charm.
In efforts to bring new light to the community, locals put together BungalowFest in the late 1990s. The annual home tour helps promote the neighborhood and a nearby business district. In more recent years, the neighborhood gained a spot on the National Register of Historic Places. These days, Historic Kenwood boasts more than 2,000 historic buildings, including several options for buyers in search of a bungalow.
Historic Roser Park
Bungalows are also an option for those searching in St Pete's Historic Roser Park. The quiet area isn't large in size, but it does have some tree-line streets and it sits close to the water. Roser Park is additionally a US Historic District, filled with Craftsman-style bungalows, Prairie-style homes and Colonial Revivals.
Roser Park was actually the first residential area established outside of downtown's business district and was as an early streetcar suburb on the trolley line. These days, the friendly community has the advantage of sitting close to sporting arenas, beaches, recreation and entertainment possibilities.
Historic Old Northeast
Extremely close to Downtown St Pete, the Historic Old Northeast neighborhood is a desirable place to call home, as well. The area is known for its historic homes, including Craftsman-style bungalows dating back to the 1920s and some Mediterranean-style homes. While some of the older homes in the neighborhood have since been renovated, it is possible to find some newer homes in the neighborhood, as well.
You'll will also find tree-lined sidewalks and paved brick streets in the Historic Old Northeast. The neighborhood boasts one of the city's oldest neighborhood associations. The area also sits close to things like Vinoy Park and North Shore Park.
Jungle Prada
You will also find some bungalows in the uniquely named neighborhood of Jungle Prada. Celebrated for its green space and its brick lined streets, the neighborhood sits only about 15 minutes from Downtown St Pete. Like many of the other neighborhoods on the list, many of the old bungalows in Jungle Prada have also been renovated and restored in more recent years.
Some of the homes were originally built in the 1920s, but a large number of homes in the neighborhood didn't go up until the 1950s and 1960s. In terms of uniqueness, the neighborhood is additionally home to dozens of peacocks, which neighbors do see from time to time, making this one of the more interesting communities with bungalows in St Petersburg.